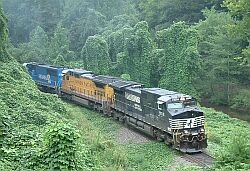 Welcome to the RRPictureArchives.NET contributor site of Mike Landis.

LET'S CONNECT:

For more awesome videos, subscribe here: https://www.youtube.com/channel/UC_dw...

Fine me on Facebook: http://facebook.com/LocomotiveMike

Find me on Instagram: https://instagram.com/locomotivemike/

Find me on Google+: https://plus.google.com/u/0/+Locomoti...

For inquiries or comments: locomotivemichael@gmail.com


Join Mike for railway tours and railroad rides across the midwestern and western United States! A special focus is given to the trains of Missouri, Kansas, Oklahoma, and California.

We cover hotshot trains and railroad action hotspots along routes of the BNSF, Union Pacific, Amtrak, along with several commuter, regional, and shortline railroads. Many of the freight trains covered include run-through locomotive power from the CSX and Norfolk Southern railroad companies. We also include webisodes featuring lines formerly owned by Santa Fe (ATSF), Burlington
Northern (BN), Frisco, Missouri Pacific (MoPac), Southern Pacific, Missouri-Kansas-Texas (MKT), Rock Island, and others.

------------------------

PRODUCTION:

I shot this video with my Canon T3i/600D, and edited using Sony Vegas. My narration is performed using a Blue 'Yeti' microphone, and I use Audacity for my audio editing.

All music is by Kevin Macleaod/Incomptech. Thanks for the awesome music, Kevin!http://incompetech.com/

You may browse my collection of pictures via the menu located on the left hand side of the page. I hope you enjoy the collection and thanks for stopping by!